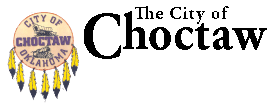 "Celebrating the Past, Enjoying the Present, & Preparing For The Future."


Choctaw Economic Development Authority
Located sixteen miles from Oklahoma City and accessible from Interstate 40, the four-lane U.S. Highway 62, and Will Rogers World Airport, Choctaw is a great place to set up your business.
With an unemployment rate that's 3.5% below the national average and recent job growth that's positive, it's easy to see how well Choctaw's economy is doing. Future job growth is even projected at 35% for the next ten years, well over the national average of 26%. The significant commercial and retail growth and the values of small town living mixed with strong incentives for economic growth make Choctaw an attractive location for new industry prospects.
And with organizations such as the Choctaw Economic Development Authority and Eastern Oklahoma County Technology Center, Choctaw offers everything you need to experience business success!