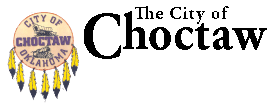 "Celebrating the Past, Enjoying the Present, & Preparing For The Future."


Choctaw Parks
10 Acre Lake - Is located on 10th street in between choctaw road and Indian Meridian. It has a pond you can fish in, a soccer field, a pavilion where you can sit and eat or have a family get together. It also has a park for the kids to enjoy.
CCP (Choctaw Creek Park) - Is located on harper road in between 10th street and 23rd street. It has walking trails that lead you around the whole park. It also has a pond that you can fish in. There is a giant pavilion in the back of the park where family and friends can hangout out, plus you can rent it out. CCP holds events and festivals such as the Oktoberfest and Haunted Trails on Halloween.
Optimist Park - Is located on 10th street in between Henney road and Hiwasee. It too has a pavilion for friends and family, a park for the kids, and a field for sports such as football, baseball, etc.
If you would like to rent a pavilion please print off the application in which park you are interested in. You will need to call the City of Choctaw at 390-8198 to check availability or if you have any questions pertaining to renting a pavilion. Pavilions are not reserved until fees are paid.
Ten Acre or Optimist Park Application